A few random questions / comments on recent releases:
EA-18G - Growler.
This is listed by Hobbymaster as as 'new tooling' and it has its own section on the HMC website. Can anybody please explain how different this is from the F-18F?
HA7740 P-51D Mustang "Jumpin Jacques"
This appears to be another stunning HM P-51 release.
1/48 P-40B/C
The mould is pretty much as expected, though it should come with ring sights. In general, I won't get any (i have all 3 carousel1 releases, which are better, rubber guns and all) but I will get one if HM makes one with a natural metal finish. A P-40B/C with a natural metal finish from HM would look great.
1/48 F4F Wildcat
HM has a decent but unspectacular F4F mould. There are many things that they can do with this, including a few british releases. One release that I'd love to see is the 'red cowl' guadalcanal version that Dragon released as a 1/72 model: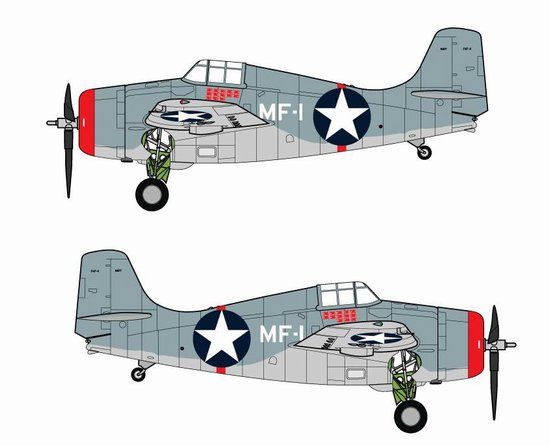 Mirage
The recent HM mirage release shows how far HM quality has fallen. While not terrible, just compare this with the old release with a similar livery and you'll see there is no comparison. While you might argue at the margins that the blue or grey color is slightly more accurate in the new release, overall the old release has a presence and subtle detailing that the new one can't approach. That said, there are a few places such as in a few small fine details where the new one is slightly better.
1/48 P-47
It's time for HM to step up with some more interesting 1/48 P-47s. They have some great moulds that have been underutilized thanks to poor livery choices ("silver lady", "penrod and sam", "pisanos", etc)
Hurricane
Let's hope the new night reapear and airshow SEAC livery versions open the floodgates of a host of new and exciting liveries for this very good mould.
Su-27
Ukraine splinter schemes are can't lose, superb releases. What is HM waiting for?
Phantom
I've been banging on about this without much effect recently, but HM better release some colourful JASDF phantoms before Air Commander beats them to the punch.
Tomcat
I saw the freelancers tomcat in person in japan. looks good. time for HM to make the splinter NSAWC bird ASAP though.
EA-6
We are still waiting for a playboy bunnies / cherry point one. This is arguably a top 2 or 3 iconic livery for this bird.. where is it?
Century wings birds
Surely it's time for HM to make a crusader and intruder, no? Century wings is on life support at best.
Helicopters
Helicopters continue to get nearly no discussion here or in other similar fora. Let's face it - as great as the releases are, they just don't generate the excitement that fixed wing aircraft do.
Calibre Wings
Rumour has it that CW's next su24 releases are imminent. The pitot (rubber plastic as it is) is not that bad - really. My friend the su24 expert has built metal replacements for his but honestly the included one is mostly fine and the idea that it isn't is a talking point tossed around the forums that's taken a life of its own mostly by people who havent acutally seen the real thing.
AFter being cool on it initially, I've become interested in their upcoming F-16. I like detailed models and it certainly qualifies. I just wish they chose more interesting liveries.
Calibre is essentially now the quality leader in the market. You might argue about Air Commander too, but they seem disconnected from the people.
Hobbymaster Sabre
Hobbymaster badly needs to create 'F' wings for their sabre so that they can release JASDF Blue Impulse and many many other liveries.
Air Commander
Their Vietnam camo releases aren't cutting it. Time to take their excellent moulds and house styles and find liveries that work with both.
Corgi
I don't really follow corgi any more, but I see that they have a new Halifax out. If you collect 1/72 bombers, corgi's halifaxes are just wonderful.