Thanks!

Quote:
Originally Posted by
dylan

Very cool! I see N702FR "Courtney the Cougar. In house, a group of us call it "Steve French"
Haha, what's the backstory on that? Pre-pandemic I called concourse G the morning zoo because of all the Frontier animal tails lined up ready to go.
My current project is Miami International Airport Concourse A Phase II, which first opened in 1999 and originally contained 10 gates numbered A17-A26. These gates could accommodate 10 narrowbody aircraft or 7 widebody aircraft. Airlines that used these gates included British Airways, LAN Chile, Swissair (later succeeded by Swiss), TACA, TAM, and Turkish Airlines. In 2007, Concourse A closed to expedite construction on the North Terminal project and reopened in 2010, with the gates renumbered as part of Concourse D. Thus these gates are now D1-D9 & D11.
I chose this part of the terminal because I've flown from this here since childhood and I work outside it on a regular basis now. The design is fairly simple which makes it easier to reproduce with LEGO, and most importantly it can handle a wide variety of aircraft.
As an example, there was one morning a few months ago when I noticed that AA had every aircraft type they flew to MIA parked next to each other on these gates. There was a 737 on D7, a 757 on D5, an A319 on D3, an A321 on D1, a 767 on D2, and a 777 on D4. A perfect real life diorama!
I haven't taken many pictures because it's still a work in progress, but it's mostly complete and I quickly staged a simple scene that depicts the terminal this past Monday at around 2 PM as a summer thunderstorm rolled through.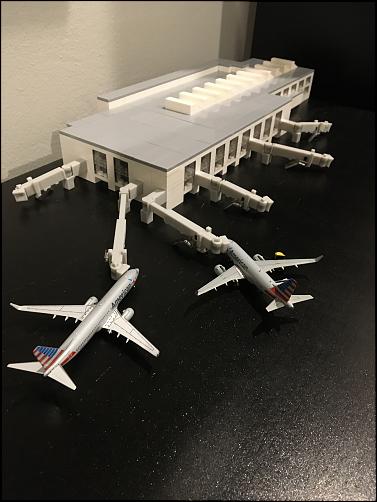 On gate D1, a 737 awaits its next flight later that afternoon. On gate D2, AA 505 to Mexico City is an hour and a half late due to crew. The rampers have finished loading the airplane and are waiting under the building for the storm to pass, but the crew chief isn't bothered by the rain and is waiting next to the belt loader. I'm fueling the airplane and enjoying the shelter provided by the wing of the A319.
Unfortunately, I haven't been able to find any 1:400 scale hydrant trucks so this flatbed is playing the role for now. I'm kind of disappointed that GSE sets see fit to include several types of buses for example, but they all universally include the same tanker truck when most major airports (at least in the United States) use hydrant fueling systems. I suppose the generator cart included in the Gemini set can double as a hydrant cart in a pinch.