Hobby Master Tornado IDS Marineflieger, HA6707, 43+44
September 2021 release
I´ve always loved this simple yet awesome livery:
One thing I was really missing on Corgi Marine Tornado - walkways on top of the wings, fuselage, intakes, and horizontal tails. I hope HM will release this
Marineflieger
including these walkways. Chances are good - HM have made the walkways already on RAF Tornado HA6702 and Norm 95 HA6703 Luftwaffe Tornado.
Also, HM should add white stripes to the radome - they are missing on HM artwork.
Its fair to say that there are also photos of 43+44 with and without the white stripes on the radome:
1983:
[br]Airfighters.com photo by Alex Staruszkiewicz
1987:
1988:
[br]Airfighters.com photo by Marc van Zon
So strictly speaking both is correct, with and w/o stripes, just that the radomes with the white stripes look generally more attractive on the models ...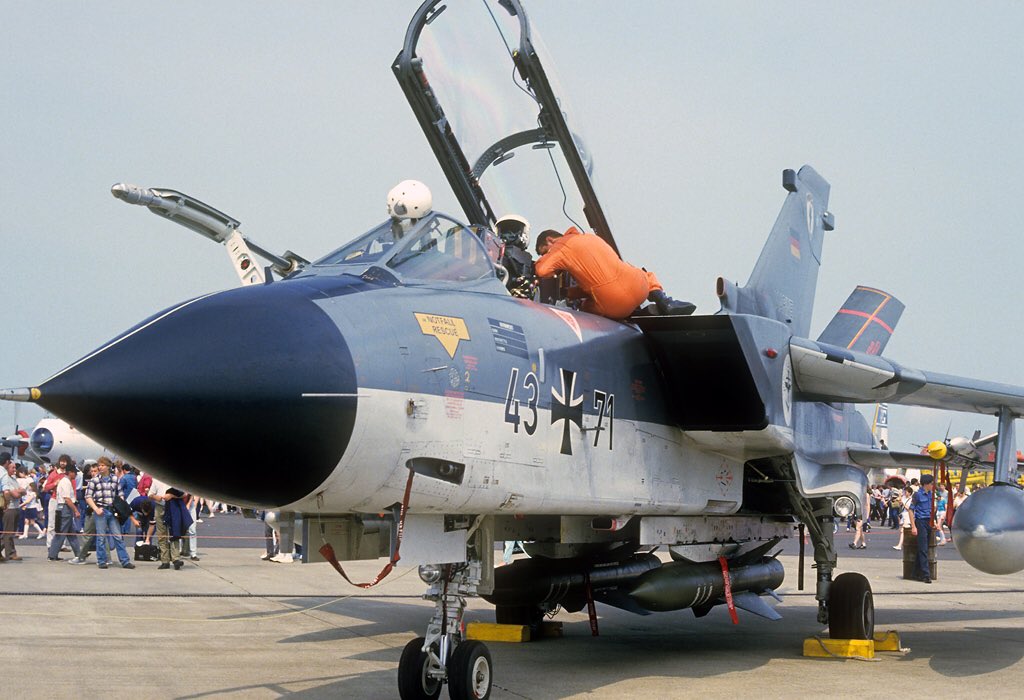 Fin heat shield,
#129 on this Tornado cutaway
, had on real Bundesmarine Tornados different, slightly lighter color. Corgi imitated this different coloring by painting this panel in silver, so it would be nice if HM could highlight this panel too:
On above Flyingmule image (and on previous photo of 43+44 Tornado) you can also see this ◊ shaped red tampoprint just above the Fin heat shield panel. No idea what is it, anyway it is just another tampo that should HM add to the model.
As you can see, some (many) other red tampos are missing in the rear on the HM artwork:
Swept wing root seal (covered with spring-loaded cover on Corgi and with separate Gap Filler piece on HM Tonkas) has actually red/white stencils just above and just below the seal opening. Here is Corgi Marine Tonka completely correct and these tampos are missing on HM artwork. (Note also the walkways on the wings / fuselage on photo below).
Also note there are other red tampos / stencils in the rear of the real Bundesmarine Tornado: red rectangle just in front of exhaust nozzles, big red stencil near the rear red line, red lines above and below the Swept wing root seal, and red stripe is also around fin root air intake.
And a last note:
the down facing antenna under the nose just behind the radome is not painted black, but is white!
Summary:
Walkways on top of the wings, fuselage, intakes, and horizontal tails
3x white stripes on the radome to add (please)
Fin Heat Shield in different color
Some red tampos are missing in the rear:
- ◊ shaped tampo above the Fin Heat Shield panel
- red rectangles in front of the exhaust nozzles
- big red stencils ahead of rear red line
- red stripes with white stencils above and below Swept wing root seals
- fin root air intake has red stripe around the inlet
- antenna under the nose is white, not black
This livery looks indeed very good in the collection, so its surely worth the effort to make this attractive model correctly.