Quote:
Originally Posted by
SuperKungFu

This one just landed in my collection from the FlyingMule:
Hobby Master
Northrop F-5F Tiger II "MiG-28"
USN VFC-13 Saints, USNFWS TOPGUN, NAS Fallon, NV, Top Gun Movie Shoot 1985
1/72 Scale, Item: HA3339
So in an effort to recreate the famous scene from Top Gun and to pair this model with Calibre Wings' existing model, I got this "MiG-28" two-seater. Normally I don't collect fictional operational aircraft, but Top Gun is the only exception. Love to display these two aircraft permanently in the inverted fashion, for now I'll make do with the Witty Wings/JC Wings F-14 display and HM's stand (however they can't be placed directly below it because the stand collides) need to makeshift a better stand in the future. But for now, here's some pictures: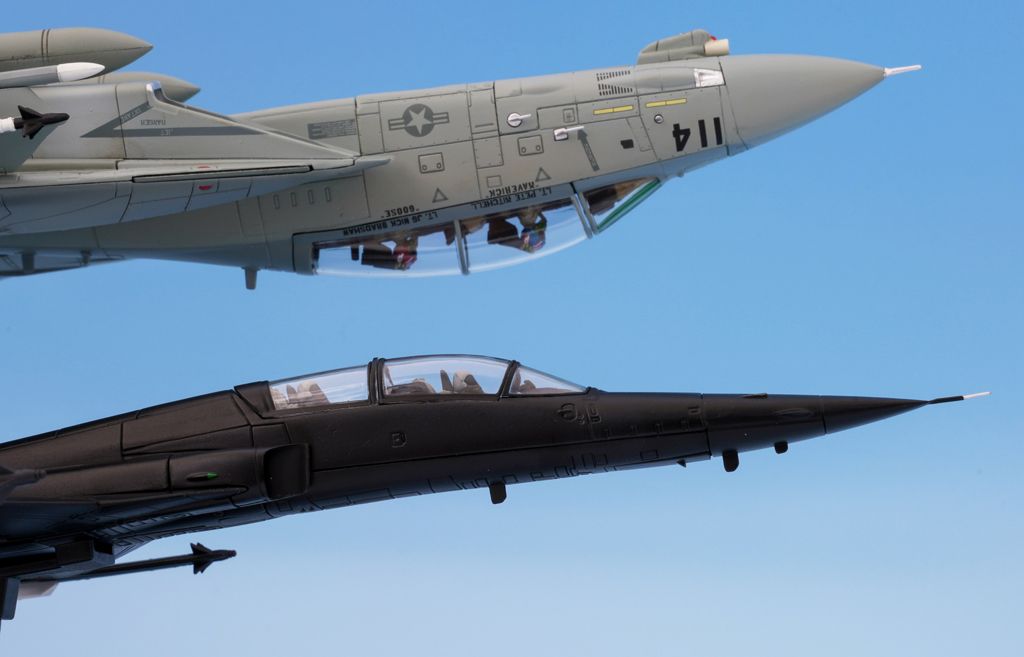 Great pictures, great display.
This classic movie scene looks very good in diecast, have to say.
It would only definitely need one common stand, imho:
Detailists will also surely try to make Maverick "salute":
https://youtu.be/o-kAsDD4HvQ?t=344
This actually should be favourite iconic diorama display of every modern diecast collector.
At least of those who don´t mind "forgotten" trimming around the canopies and rather dull rear engine section.
And of course - grey helmets of HM Mig-28 "blobs" doesn´t help as well....
Btw., what does it have to be - to put so much effort in all that tiny painting of arrestor hook´s black and white stripes - wrongly?

But in the end this is only a pseudo scheme. So ... what a nice model!