Your solution looks to work for you and that's a good self satisfaction feeling for you I suspect....as long as your happy with it.
Yes display stands for some situations, sometimes prove to be problematic... an Achilles heal. The topic has been discussed in previous posts.
My view is that there is no industry universal mount standard that could apply to all models....and imo there should be. My solution? A single threaded hole (female) tapped into the underside of the fuselage, preferably at center of gravity of the weight of the model. From that then the Manu can stylize any display stand they want...including the addition of a pivoting feature..... as long as the stand has a threaded stud (male) that will mate to the new universal industry standard threaded hole. Type of threading? Whatever some consortium of Manus agree upon ... metric or SAE.... (metric most likely)
Think of it as mating a tripod to a camera.... for the most part the mating of the camera to the tripod is an universal industry standard threaded hole to threaded stud.
Below are valiant efforts by Manus to provide some sort of universal (for their own models) display stand. I don't have any to speak to, maybe someone in the forum has.
Calibre Wings
This Platz stand below is for any Manus models ... based on sticking magnets to the under belly and then mated to the magnets on top of the display stand stem.... novel idea......hopefully the magnets that stick to the plane, the sticky portion, is easily removable without leaving residual sticky stuff or pealing off plane paint....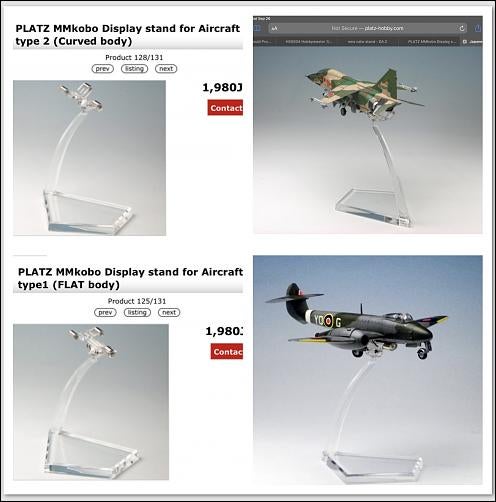 BB