I finally got this in from the FlyingMule:
Calibre Wings Sukhoi Su-24MR Fencer-E
Russian Air Force, White 30
Weathered Finish, 1000 Pieces Worldwide
Item: CA722404-W
I remember I pre-ordered it back in March of 2019 after missing out on the first Russian Release. Really glad we get to see the Su-24 made into diecast. I know it always lived in the shadows of the F-111. This is my first Su-24 in my collection let me give you an overview of everything. First let's take a look at the box art and its contents:
Now what surprised me is the landing gear was already attached to the model, personally I'm not a big fan of that because it might cause some damage during transit, I noticed one of my main landing gear struts was a bit bent on arrival. I wished it was in a separate compartment. They also have the red intake and exhaust covers already placed in. Also I see this time they included an all new metal pitot tube (I know there was some complaint about the plastic bent pitot tube on the first release). Now since it is metal it might be too thick at first to put into the nose, I suggest you use a wooden toothpick and plug it into the nose first before shoving the metal piece down there and possibly damaging the aircraft
I also recommend picking up the separate weapons pack for the Fencer that includes more missile and bombs and also the Su-24 Ladder and Pilots for that extra look.
Because let's be honest the ordinance that it comes with (although typical loadout) it's quite boring. I want my Fencer to be overweight with some teeth.
Now be careful when putting on these weapons because they are quite fragile. In addition since the connecting points are these small plastic stubs, it makes it more difficult. Also be aware of the pylons, it's very easy to use the wrong type of pylons to carry the fuel tanks or the missile set so you have to make sure you read the instructions on which piece of swap out. Also read the instructions on how to put in the refueling probe, that was tricky: you have to twist it and slide. Here's some more pictures: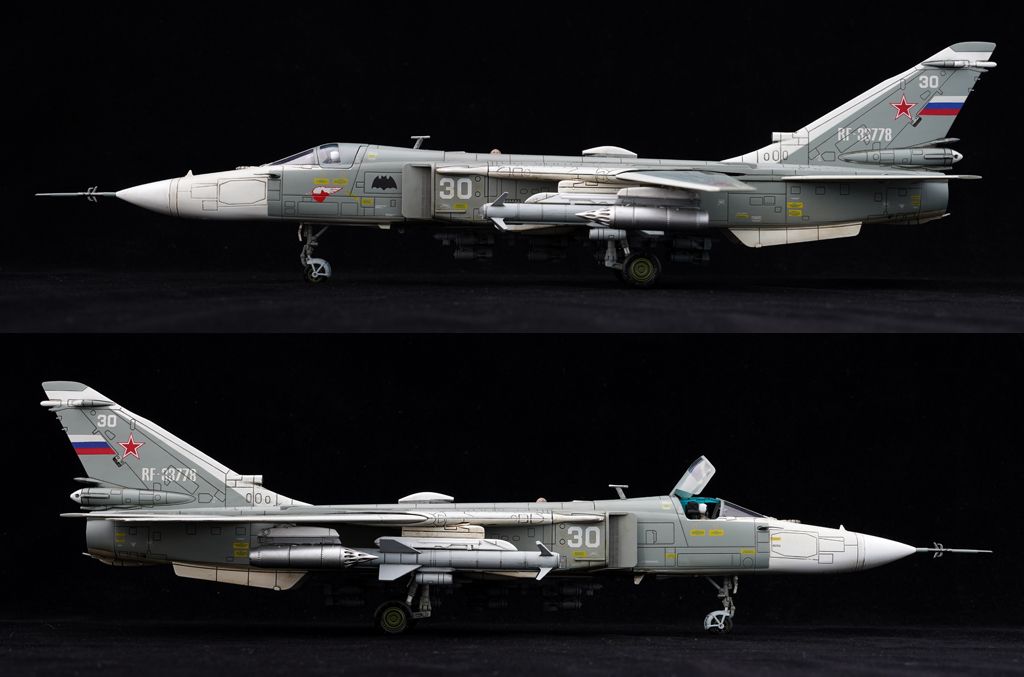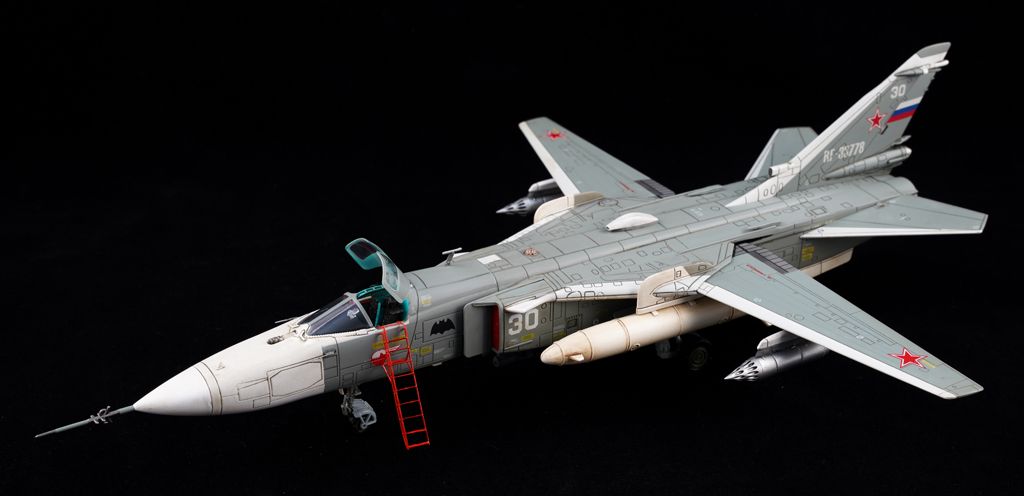 Now what is cool is that they include different canopy positions: you can display it all closed, all opened, or one or the other open or closed.
The underside of the aircraft really shows the weathering effect, and this particular release does not come in a clean version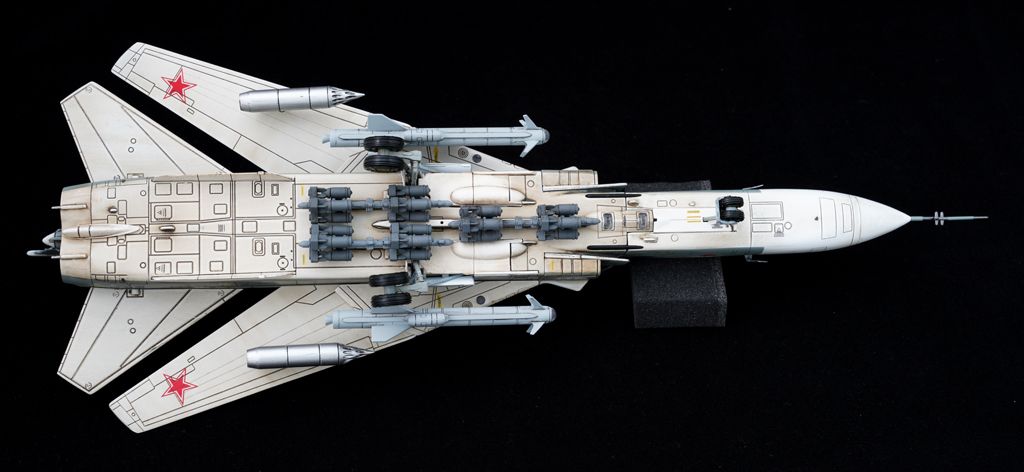 Now I chose not to display it in-flight since a model of this size (stretching to 12.25") it seems a bit dangerous on that display stand. In addition since I already bought the ladder and the pilot figures, it's best to display it on the ground.
Overall very satisfied with this model, the weapons were a bit tricky to fiddle with very it's a solid and detailed model. Enjoy!