There are four major gaps in this hobby for Canadian aviation collectors and I'm hoping I can convince the manufacturers to narrow the gap. There are only six Canadian airlines with year round scheduled domestic jet service - Air Canada, Westjet, Air North, Canadian North, First Air, and Air Inuit. Three of those carriers, Air North, First Air and Air Inuit, have never been featured in diecast. Air Canada and Westjet have been done by pretty much everybody and Aeroclassics helped fill a niche with Canadian North. Additionally, there are two international jet air carriers in Canada - Air Transat and Sunwing. Like the three mentioned above, Sunwing has had no love from manufacturers (again, a tip of the hat to Aeroclassics for doing a beautiful job with Air Transat). It's such a shame because without Air North, First Air, Air Inuit and Sunwing, there is a HUGE gap for Canadian commercial airline collectors. Not only that, but these are beautiful aircraft.
Air North has been in service since 1977 and has flown a variety of aircraft from the Douglas DC-3 and DC-4 to the Hawker Siddeley 748 to a fleet of Boeing 737s (200, 200C, 400, 500, 500 w/winglets). They are based out of Whitehorse, Yukon and serve all of the northern Yukon communities as well as major Canadian cities such as Vancouver, Whitehorse, Ottawa, Calgary, Edmonton and Yellowknife. They also fly charters across Canada and the US and are often selected by major sports teams because of their exceptional standards and service. Their current livery with the bright orange tail is very attention grabbing and garners quite a bit of attention wherever it goes. Previously, their Hawker Siddeley HS748s were painted white with blue, orange and yellow striping down the side. Their original classic green and yellow livery was also quite striking and served their DC-3s and DC-4 well.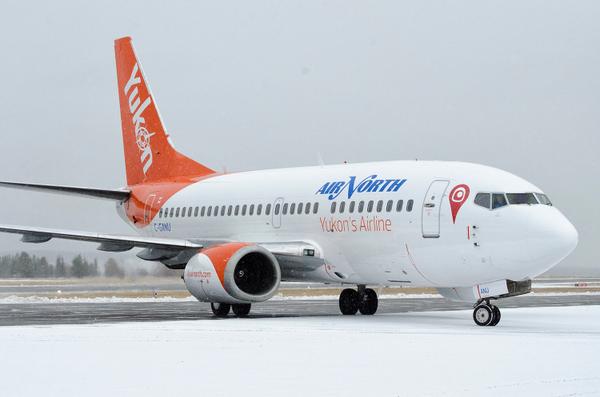 First Air is also largely Boeing, but has replaced their Hawker fleet with ATR 42s and 72s (Air North has also announced their intent to do the same). First Air has also previously operated 727s, 767s, and C-130 Hercules. The current fleet feature different arctic animals and scenes on their tails. The previous livery had bold yellow, orange, pink and blue stripes down the side. First Air has the distinction of being the last commercial airline to operate the Boeing 727 in Canada. First Air is based out of Ottawa, Ontario and primarily services Canada's arctic.
Air Inuit was founded in 1978 and is based out of Dorval, Quebec. Although they primarily operate prop aircraft, the airline has acquired two Boeing 737-200C aircraft. They offer a niche service by flying sked flights and cargo services all across northern Quebec as well as offering a charter service. One of the greatest liveries of any airline out there.
Sunwing has exclusively flown Boeing 737-800s from the beginning. Their fleet has been updated with scimitars winglets and they are currently undergoing a revamp to a new paint scheme (which looks suspiciously similar to Easyjet). Sunwing is based out of the Etobicoke district of Toronto, Ontario. They fly from Canada to vacation destinations and offer no year-round domestic service.
Although there are quite a number of defunct airlines that Canadian collectors would love to collect, it's the airlines that we currently fly on that we are connecting with today. Without Air North, First Air, Air Inuit and Sunwing models in our collections, we'll never feel properly represented in the world of diecast model collecting.