The newest release of 3 Aeroclassics Transavia Caravelles has inspired me to make a diorama Schiphol in '70 style. Due to the small space availabe I only made a part of the former 'A-pier' (still exist as Schiphol's 'C-pier') in scale 1:400 and used mirrors to create a spatial effect. I hope you like it.
I am a lover of vintage planes and two of my personal favourites are the Caravelle and the DC-8. In this particular case the KLM DC-8-63 was the plane on witch I made my first flight as a kid. The Caravelle's of Transavia are an important part of the history of my employer. The noisy but beautiful French jet served transavia until 1976. The early morning departure of the fleet bound for their typical holyday destinations (we still serve today) was infamously called the 'thunder hour'.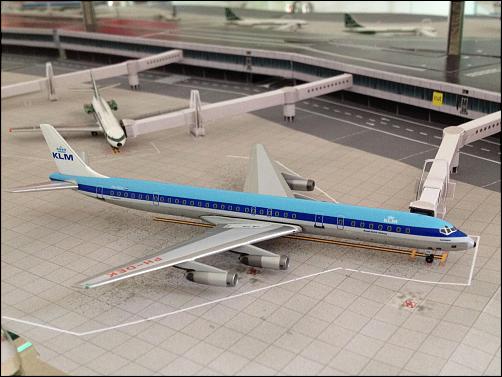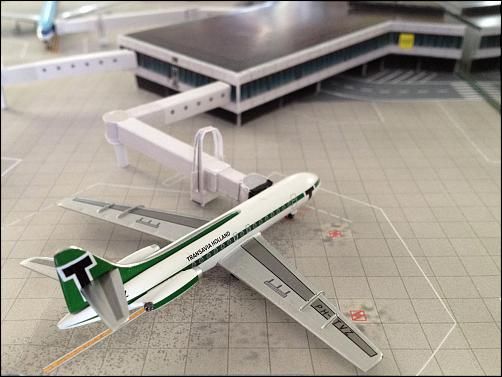 AeroClassics Sud SE-210 Caravelle III PH-TRU
AeroClassics Sud SE-210 Caravelle III PH-TRR
AeroClassics Sud SE-210 Caravelle III PH-TVZ
AeroClassics Boeing 707- 329C PH-TVK
AeroClassics DC-8-63 PH-DEK
The Caravelle's were replaced by (for the time) more modern and fuel economic Boeing 737-200. The straight jet -200's were replaced by -300's in the eighties and the latter were replaced by Next Gen -800's and -700's when the first arrived in 1998. So I had to have the Gemini Jets Boeing 737-700, that is specialy developed for the AviationMegastore.
kind regards, vintage jet