So far I've looked, through my model collection, at the histories of 12 of the original US Trunk airlines as well as Pan Am and AOA (in the AA thread). However there were several other certified Trunk airlines in the 1940s and early 50s which at the time were no smaller than airlines that went on to become household names like Continental and Delta. These included Colonial Airlines, Mid-Continent Airlines and Chicago & Southern Air Lines.
The first two have no trace in 1:400 but the latter does - kind of anyway.
C&S was a vibrant carrier flying the 'route of the dixieliners' in the Mississippi Valley and beyond into the Caribbean and Venezuela. Started by Carleton Putnam in 1933 as Pacific Seaboard Air Lines flying the Los Angeles - San Fran airmail route the airline's operations shifted to the Mississippi Valley a year later when all airlines had to reapply for their routes. Putnam got the Chicago-New Orleans route and began service on June 3rd 1934. In 1935 the name was changed to the more apt Chicago & Southern.
The 1940s were a time of great expansion for the carrier which started Memphis-Houston service in 1941. Postwar Detroit was added as well as further destinations in Texas, Arkansas, Indiana and Missouri.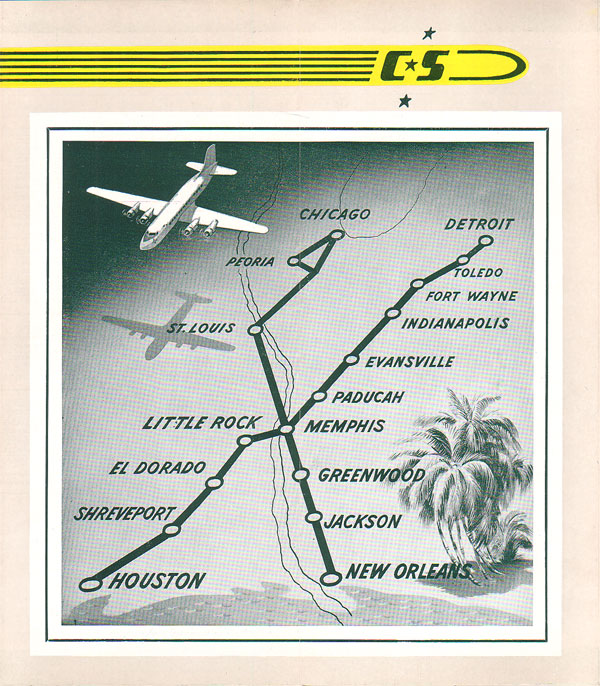 The pre-war fleet of 6 DC-3s had expanded to at least 13 by the end of 1945 and these were joined by several ex-USAAF C-54s / DC-4s.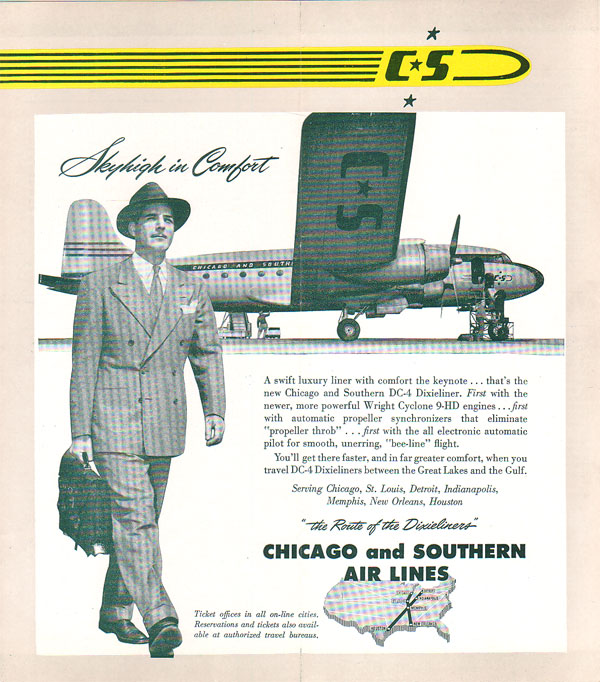 Indeed C&S gained international routes in 1946 operating into the Caribbean from New Orleans. Eventually destinations included Havana, Cuba; Kingston and Montego Bay, Jamaica; Port-au-Prince, Haiti; Aruba and Curaco, Netherlands Antilles; Cuidad Trujillo [today's Santo Domingo], Dominican Republic; San Juan, Puerto Rico; and Caracas, Venezuela.
In 1950 the by then 6 C-54s were replaced by 6 Lockheed L-649 Constellations which flew in the lovely bare-metal yellow and green C&S colours for the next 3 years:
By the early 1950s C&S like many other carriers was looking for a merger partner to offset low revenues, expensive re-equipment and finance growth. Unlike almost all merger proposals however the CAB looked favourably on an agreement between Delta and C&S. The two CEOs had been long-standing friends and a $10 million agreement was reached which saw the two airline's networks blend together well. For more info on the merger see this case-study:
http://www.thebhc.org/publications/B...0009-p0010.pdf
The merger was consummated on May 1st 1953 and Delta became Delta C&S for the next two years (since at the time C&S was as large as Delta was). Delta's became the 6th biggest US airline, almost doubled its fleet (in 1952 C&S had 18 aircraft and Delta 26) and gained its first international routes.
So what is there in 1:400? Sadly no C&S models at all - though we can dream of seeing a C-54 or Connie. However Aeroclassics has seen fit to make two Delta C&S models - though the Connie is rare and expensive. I have however recently purchased the CV-440 and though a type never flown by C&S I hope you can forgive me for including it in this thread. Here she is with my Delta standard CV-440:
Much of the info for this thread came from Delta's online museum at:
Delta Museum - Delta History
and several of the pictures are from
http://www.airtimes.com/cgat/usa/cands.htm
For my other threads on US classics see:

Alaska Airlines: http://www.diecastaircraftforum.com/...nes-fleet.html
Aloha Airlines: http://www.diecastaircraftforum.com/...nes-fleet.html
American Airlines: http://www.diecastaircraftforum.com/...nes-fleet.html
Braniff International: http://www.diecastaircraftforum.com/...iff-fleet.html
Capital Airlines: http://www.diecastaircraftforum.com/...nes-fleet.html
Continental Airlines: http://www.diecastaircraftforum.com/...ollection.html
Delta Air Lines: http://www.diecastaircraftforum.com/...nes-fleet.html
Eastern Air Lines Pt1: http://www.diecastaircraftforum.com/...ern-fleet.html
Eastern Air Lines Pt2: http://www.diecastaircraftforum.com/...ick-fleet.html
Hawaiian Airlines: http://www.diecastaircraftforum.com/...nes-fleet.html
National Airlines: http://www.diecastaircraftforum.com/...nes-fleet.html
Northeast Airlines: http://www.diecastaircraftforum.com/...ollection.html
Northwest Airlines: http://www.diecastaircraftforum.com/...nes-fleet.html
Pan Am: http://www.diecastaircraftforum.com/...-am-fleet.html
TWA: http://www.diecastaircraftforum.com/...ollection.html
United Airlines: http://www.diecastaircraftforum.com/...nes-fleet.html
Western Airlines: http://www.diecastaircraftforum.com/...nes-fleet.html