As promised, here are more photos from today's #myBigFlight joyride event
But before I begin, here's a copy of the electronic invitation that I received from MH couple of days ago. I was jumping with joy upon receiving this piece and have been counting my days for the big flight since then. Anyway, it is the agenda details that I would like share most from this piece - I hope it will find you well as you view the following photos: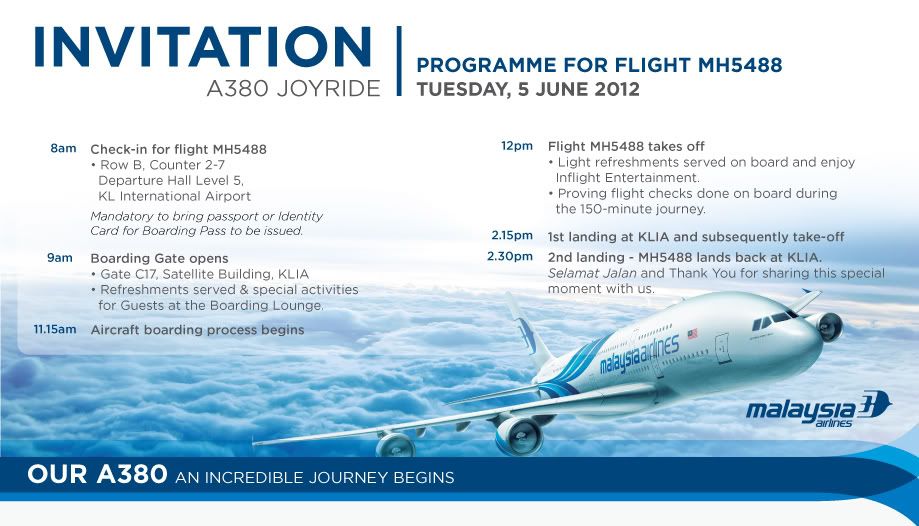 And so it begins, a journey of epic proportions for both myself and Malaysia Airlines. Yeehaw~
Parking signage for #myBigFlight participants are strategically placed, and easy to spot from a distance too.
Park and hop!
KLIA was surprisingly mundane this morning at 9:00 AM despite the mid-term break for school-goers.
Meet & greet session among the bloggers - Malaysia Airlines invited some prominent bloggers to be part of this joyride event
That is one neat looking lanyard there, MH. And the splash of blue on the ticket is certainly a refreshing sight.
Off to Satellite Terminal, we go, onboard the KLIA Aerotrain
Gate C17.. Gate C17.. Where's gate C17..?
Ah, more signage! Thanks, MH. I'm liking this blue already. So pleasing to the eye.
PS. I still miss the red though.. And I'm sure many of us too..
Almost carnival-like atmosphere at Gate C17, with cameramen and members of the media interviewing guests.
Smile! You're on camera!
VIP treat for all guests including polaroid photo-shoot with the crews.
Pre-flight event on the mezzanine floor.
The lucky winners of #myBigFlight contest.
View of the satellite building from mezzanine floor.
The eager-beavers, all can't wait for the boarding. T-minus 15 minutes for boarding.
The crews of MH 5488