It's your turn FLIGHT SIMMERS!!!!
Submissions are live already having the first entries.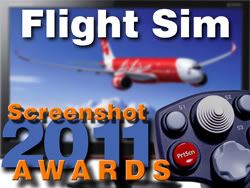 See that "Prtscn" button on your keyboard while at 32.000ft?
HIT IT! and win your self some flight simulator goodies for your favorite game. Or is it not really a game per say? No not really! It has gone far beyond that. It has messed with your mind making you think...
in the unlikely event of an emergency
("crew member had too much to eat and has fainted in the lavatory" scenario, etc) ... could I take over a real aircraft and land it safely in my home airport? Become the hero of the day? Get an award for saving hundreds of lives and have an aircraft named after me?
Errr. NO YOU CANT! Sorry guys. Firstly, I wish you are never put in such a situation, secondly the difference is dramatic! But putting scary scenarios aside, you truly are
a great FS pilot
and have the opportunity to get
AWARDED for it
!
Right here in Planetavia, we are looking for this years BEST SCREENSHOT. Each contestant will have to pick among his hundreds of Gigabites of screenshot images (I presume) and pick his
favorite one
!
Send those three screenshots to us:
info@planetavia.com
With the following details:"
-Image Title ("Cross winding Alitalia", "the sun under Qantas"" etc)
-Hardware (PC, MAC, Graphics card, CPU etc)
-Software (Windows, MacOS, Flight Simulator typ etc)
-Control medium used (flight yoke, stick, keyboard etc)
-FS Settings engaged (Anti-aliasing filter, effects etc)
-FS addons used (traffic, aircraft, weather etc)
+ a short line stating your full name (plus screen name if you wish to remain anonymous on the photo's watermarks) stating you allow
www.planetavia.com
to use your images.
Thank you and good luck!